Publications and Special Collections
FES Library Publications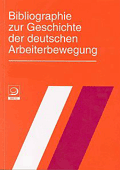 The annual bibliography Bibliographie zur Geschichte der deutschen Arbeiterbewegung, published since 1976, is the oldest and most important publication of the FES Library. With this bibliography the Library documents its acquisition activities in the field of the German labour movement, indexing articles from a wide range of scientific periodicals. More details on this publication and its accompanying database is provided on this information page in German language.
Another long-running periodical publication is the bibliography of all FES publications. Its predecessors started in 1979 and until today approximately 1.000 new titles are listed in every new edition of this annual publication. Almost all electronic FES publications can be accessed through our Digital Library, and other FES titles that are out of print are available in our premises in Bonn or through interlibrary loan. Other FES Library publications can be identified using the main catalogue.
Special Collections
The FES library has compiled databases and inventories on different subjects. Some of these sub-collections are the result of integrating complete libraries into the FES Library, others are thematic collections that are presented individually due to its relevance. This list in German language presents you a selection of these special collections. You can find other individual projects (digitized newspapers, special catalogues and other databases) in the Special Catalogue or Digital Periodicals section (both only in German language).