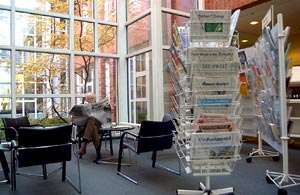 Opening Hours
Monday and Wednesday:
9:00 am - 5:00 pm,
Tuesday and Thursday:
9:00 am - 7:00 pm,
Friday:
9:00 am - 4:00 pm,
and according to prior agreement on these days.
The information desk is closed between 11:45 am and 12:15 pm (Monday - Thursday) and between 11:30 am and 12:00 pm (Friday)!
Requests
Times for reading room loan requests:
9:30 am, 11:00 am, 1:00 pm, 2:30 pm, 4:00 pm; 5:00 pm (only on Tuesday and Thursday);
last requests on Friday: 2:30 pm.
Approx. after 30 min. the requests will be available for use.
Using the FES Library
As a reference library the FES Library is open to the general public. All library holdings can be used in the reading room, there are no access charges for using the general library services. If you wish to register as a library user you can contact us before visiting the library, but you are certainly welcome to visit us without prior arrangement during our regular opening hours.
Different magazines and newspapers are available in the open-access area of our library. All other library holdings are stored in closed stacks and have to be ordered at the information desk (see the times for reading room loan requests on the right). Please send us an email if you wish to order titles from our stacks prior to your visit. Books and other media that you want to use over a longer period will be deposited for you at the information desk.
Every desk in our reading room is equipped with a power supply for notebooks. There are also reader printers for using microfilms and microfiches, though there is a charge for the printouts (DIN A4 printout: 15 cent, DIN A3 printout: 20 cent). Please consider also the loan and services pages for more information.
The current FES Library's regulations are available as pdf file in German language.