Map (in German)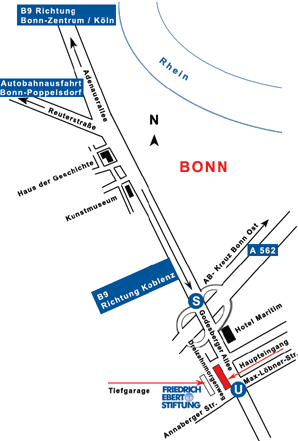 Additional Information
Directions
Public Transport
From Bonn Main Station with city railway line 16 or 63 (direction Bad Godesberg), leave train at station "Max-Löbner-Strasse/Friedrich-Ebert-Stiftung"
VRS Timetable information (local public transport).
PKW
You can reach us via federal road B9 (Godesberger Allee). Please use the map as orientation guide.
Limited parking space is available in our underground parking (via road "Dreizehnmorgenweg".
From airport Köln/Bonn
Take the airport bus (line SB60) to Bonn Main Station.
Airport bus timetable
Continue with city railway (see above).