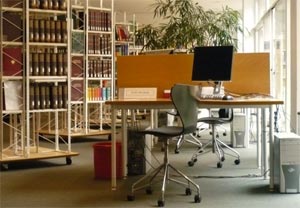 Reading Room
Reading Room Services
Microfiche Editions
The FES Library holds a number of relevant microfiche editions that can only be used in our reading room. Among these editions are basic biographical reference works and other historical source material. Appropriate reader printer are available in the reading room.
Further Services
Library Tours
We can organise guided library tours for groups and introductory tours for new library users (classes or student groups). If you wish to arrange a tour please contact us (see details on the right).
Copies
We provide a copier and a "book2net" scanner (storage on flash drive).
The following charges apply for any copy or printout:
DIN A4: 0,10 €
DIN A3: 0,15 €
printout reader printer, DIN A4: 0,15 €
printout reader printer, DIN A3: 0,20 €
Please pay at the information desk before leaving the library.
Additionally, two reader printer (for microforms) for scanning directly to your flash drive are available at no charge.
Cafeteria
You can visit the FES Cafeteria at lunchtime. In addition, vending machines for soft drinks, coffee and snacks are available.