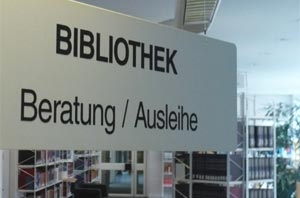 Interlibrary Loan Department
Contact details, phone: ++49(0)228/883-8204
or ++49(0)228/883-8224
email: fernleihe@fes.de.
Please do not forget to mention "Fernleihe" in the address when sending a fax or letter to the interlibrary loan department (see general contact details here).
Direct Order, Conditions
Costs per article or publication copy (up to 60 pages)
Postal delivery: 6€, fax: 7€, email: 4€, download from web server: 4€
Payment Options
Per bank transfer after receipt of invoice. Please note that other options are currently not available.
Delivery
Within 2-3 working days. The delivery is carried out according to the chosen delivery method. In case of delivery per email we cannot guarantee that your mailbox allows the handling of large email attachments.
Local and Interlibrary Loan
In-house Use
The FES Library is a reference library, thus we cannot offer any extramural loan option. Though exceptions can be arranged for institutional users. In such a case please contact the interlibrary loan department.
Interlibrary Loan
The FES Library participates in the national and international interlibrary loan system. Our Library's holdings can be requested by your local library using this system. In this case, please inform your local library about the specific titles you wish to receive from us, indicating the unique identifier for our library (ISIL):DE-Bo133. The ordered volumes will then be lent to your local library.
Direct Order of Articles and Publication Copies
You can order copies of articles and other publications that do not exceed the number of 60 pages per copy. Please see the charges for this services on the right.
Known titles from our holdings can be orderes using this order form in German language.
For other titles please search our general catalogue first. For titles that meet the basic requirements for the direct order option you will find this option next to the search result.
Publications from the Friedrich-Ebert-Stiftung
For all information about the different ways of accessing FES publications please see the information pages in the Digital Library section. FES publications that are not regularly available any more can be accessed using the interlibrary loan system or the direct order option in case our library has a copy of the specific publication. Please contact us if you need more information in this context.